Graduate Research in the Arctic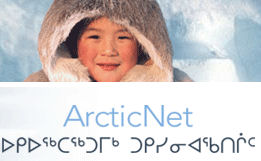 Dr. Karen Pennesi is part of ArcticNet, a Network of Canadian researchers that brings together scientists in the natural, human health and social sciences with partners in Inuit organizations, Northern communities, government agencies and the private sector to study the impacts of climate change in the coastal Canadian Arctic. The ArcticNet community is large, with collaboration occurring among several disciplines and universities. The research questions are fairly broad, inviting new ideas and interests. As a co-investigator with other researchers from Western and the University of Manitoba, Dr. Pennesi currently holds an ArcticNet grant exploring how local communities in Nunavut interpret scientific weather information, and how that information is integrated into their own local or indigenous knowledge.
The main goal is to provide information that can help Northerners cope with and adapt to atmospheric-related hazards. The research team will work together with local Inuit experts in gathering, interpreting and evaluating both qualitative and quantitative data. Two graduate students are currently conducting original research in Iqaluit and Pangnirtung. If the funding is renewed beyond 2011, there will be exciting opportunities for qualified graduate students to participate in future projects. Interested students should contact Dr. Pennesi at
pennesi@uwo.ca
.