NOTICES & ANNOUNCEMENTS
NEWS
Anthro Students Learning through Community Engagement
Students of Anthro 2283F volunteered at the South London Neighbourhood Resource Center to better understand refugees and the newcomer experience. Read more…
---
Andrea Waters-Rist - Research Featured by Media Relations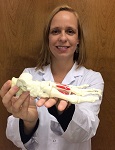 "What we choose to wear on our feet plays a big role in the injuries and trauma our feet can sustain," says Associate Professor Andrea Waters-Rist. Read more...
---
New Anthropology Hires
We are delighted to welcome two new bioarchaeology professors to our department. Dr. Andrea Waters-Rist (Leiden University) and Dr. Jay Stock (Cambridge University) in 2017. Read more...
---
All News
---
HELPFUL CAMPUS RESOURCES
Mental Health & Wellness
Western offers a variety of counselling services and several mental health resources for students, faculty and staff.  Please visit Western's Health & Wellness website for more information about resources available on campus, or refer to Western's Mental Health & Wellness Resource Guide. Graduate students can contact their Wellness Education Center Ambassador, Nadja Schlote for more information about resources available on campus.
Social Science Technology Services
Social ScienceTechnology Services (SSTS) serves the technology needs of Faculty, Staff and Students in the Faculty of Social Science at Western University. They are located in SSC 1228.  Many of the services offered are described on their website. The Student's page has useful information about software for students and other support services and resources available to them.
---
GRADUATE
UNDERGRADUATE
Why Choose Anthropology?
Safety in the Field & Abroad
Please refer to our Safety in the Field document for important information on personal safety, food safety, medical issues, communication plans, dealing with unexpected political turmoil and many other issues to consider when doing field research. All Western students participating in University sanctioned international activities are now required to enrol in Western's International Travel Registry. This information enables Western to monitor student safety, update students on travel advisories from the Canadian Government, and locate and provide assistance in case of an emergency overseas.For more information about conducting research abroad, please visit Western's International & Student Exchange Centre.
Safe Campus Community
Promoting and maintaining a safe and respectful working and learning environment at Western is a shared responsibility. The Safe Campus Community is an initiative of campus partners offering services and resources to members of the University community focused on keeping our campus safe.
 ANTHROPOLOGY & COLLABORATIVE PROGRAMS AT WESTERN