Upcoming Event
Spence Lecture - Professor Thijs van Kolfschoten, Leiden University, Netherlands

Wooden Spears and Broken Bones: Lower Paleolithic Hominin Subsistence at Schöningen Germany
Friday, November 23, 2018, 2:30pm, SSC 2257
Reception at The Wave to follow the presentation.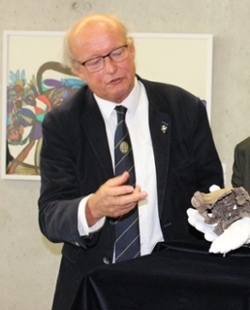 The famous archaeological site of Schöningen, Germany is most well-known for the discovery of wooden spears made around 300,000 years old. These are the world's oldest human-make wooden artifacts. The recovery of other wooden artifacts, stone tools, and the bones of butchered animals like horses, speaks to the repeated presence of pre-modern humans along this ancient lakeside in the Lower Paleolithic period. World renowned scholar, Professor Dr. Thijs van Kolfschoten, a zooarchaeologist at Leiden University, The Netherlands, has been working at this site since 1992. He has analysed tens of thousands of ancient animal bones, including those from saber-tooth cats, wolves, and many herbivores. Through detailed analyses of animal remains and other artifacts, he reconstructs what the ancient environment was like and what past people were eating. His work shows that these early humans were active hunters with specialized tools.
This event is generously supported by the Social Science Student Donation Fund.