Graduate Research in the Spotlight
These bios were prepared by Tamara Britton, Jessica Lacerte, Hillary Kiazyk, Gabby Kurtzrock Belyea and Amanda Suko as part of the Fall 2017 Professional Development course. If you are a grad student in the department and you would like to see your research profiled here, you can submit the info to Christine Wall.
LINGUISTIC ANTHROPOLOGY
FEDERICA GUCCINI
PhD Student in Linguistic Anthropology in collaboration with Migration and Ethnic Relations (MER)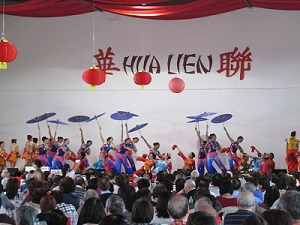 I am a PhD student from Germany studying Linguistic Anthropology at Western. My fieldwork mainly takes place in Mauritius, a tropical island in the Western Indian Ocean that is known for its ethnic and linguistic diversity. Focusing on experiences within Mauritius' Hakka Chinese community, I examine the meanings of the various languages in their repertoires on processes of national, ethnic and cultural identification. My project therefore spans several language contexts, including English, French, Mauritian Creole as well as the Sinitic languages Mandarin and Hakka. The latter is not spoken much in Mauritius anymore, making Hakka identity potentially precarious.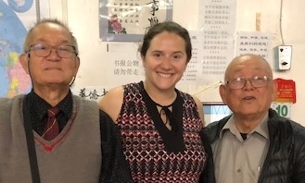 Though Hakka is considered a heritage language for most of the Chinese community (the minority being Cantonese), Mandarin is currently gaining more importance, both as a language with economic assets and as a way for Mauritian Chinese to explore their heritage. Besides language, another part of my research concerns migration and transnational identification. I am enrolled in Western's graduate collaborative program Migration and Ethnic Relations (MER), which allows me to exchange ideas with other graduate students working on similar theoretical angles. Migration is an important factor to consider in my project due to ongoing emigration of Mauritian Chinese to countries like Australia, UK and Canada. Canada now is allegedly home to more Mauritian Chinese people than Mauritius itself, which is why I will conduct a small part of my fieldwork in Toronto, the main hub for Mauritian Chinese clubs and activities.
---
BIOLOGICAL ANTHROPOLOGY
PRIMATOLOGY
TAMARA BRITTON

MA Student in Sociocultural Anthropology in collaboration with Environment and Sustainability (MES)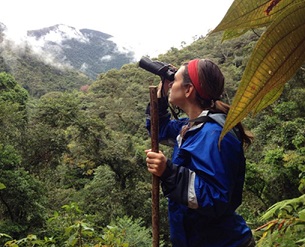 My background in Anthropology and International Development within a Latin American context informs my current research interests in Neotropical Primates from an ethnoprimatological perspective. My master's research will use a mixed-methods approach in the Pacoche Wildlife Reserve in coastal Ecuador to investigate the shared spaces and relationships between humans and nonhuman primates. Data will be collected on the livelihoods of local forest-edge human communities, GIS mapping of the proximity of primate populations to human settlements, as well as their perceptions and actions concerning the conservation of the threatened Mantled Howler Monkey (Alouatta palliata aequatorialis), and the critically endangered White-fronted Capuchin Monkey (Cebus aequatorialis). The goal of this research project is to create a conservation action strategy in collaboration with a local NGO to benefit both human and nonhuman primate populations.
---
LAUREN GILHOOLY

PhD Student in Biological Anthropology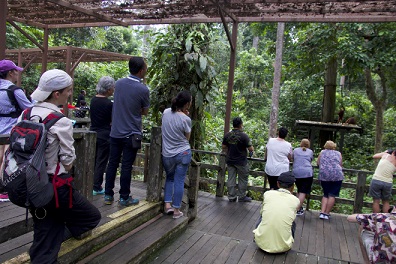 My PhD research focuses on a population of hybrid Long-tailed x Pig-tailed Macaques at the Sepilok Orang-utan Rehabilitation Center in Sabah, Malaysia. I am interested in their ecology, parasite prevalence, and interactions with tourists. I have always been interested in the ways in which tourism can be used as a conservation tool while also keeping in mind its potential drawbacks. Close contact between primates and humans can lead to aggression, injury, increased physiological stress, and even disease transmission. I aim to better understand tourists' motivations for getting close to wild primates while also looking into what kinds of interactions are most likely to become aggressive.
---
BIOARCHAEOLOGY
JESSICA LACERTE
MA Student in Bioarchaeology
I am interested in dental anthropology, the relationship between stress the environment, and its impact on childhood growth and development. As an undergrad, I worked in southern coastal Peru, examining stature and sexual dimorphism in the Chiribaya culture (900-1300 CE). My MA thesis research, supervised by Dr. Andrew Nelson, will examine the impact of Inka conquest on childhood stress at the site of Rinconada Alta on the central coast of Peru.
---
JOANNA SUCKLING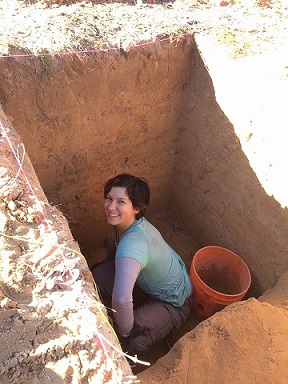 PhD Student in Bioarchaeology
I have been passionate about biological anthropology since I was a child, and I am particularly interested in bioarchaeology, mortuary archaeology and taphonomy. My Masters thesis at Texas State University involved working at the Forensic Anthropology Research Facility (FARF) in San Marcos, and focused on forensic taphonomy and methods of estimating time since death. At Western, my PhD research bridges biological and archaeological analysis. It explores questions around mummification and Inka mortuary practices, as part of the bioarchaeology of imperialism. My project aims to identify artificial versus intentional mummification, determine the steps in the mummification process, and conduct inter-site comparisons to interpret funerary rituals.
---
ARCHAEOLOGY
AMANDA SUKO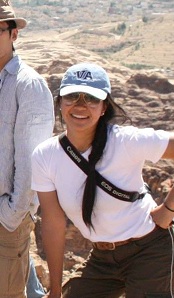 PhD Student in Archaeology

My current research, supervised by Dr. Neal Ferris, involves a 12-13th century pottery collection from a series of local archaeological sites near Arkona, Ontario. During this time period, distinct communities of potters with different craft traditions are thought to have interacted with one another in the region, creating new pottery designs that are unique in the Ontario archaeological record. My work examines the variety of pottery shape and decoration represented in the Arkona pottery collection in order to understand the nature of group interactions and the extent to which pottery making traditions were shared between communities of potters.
---