The Lee Guemple Award in Anthropology
The Lee Guemple Award in Anthropology
Congratulations to Christina Taggart, this year's winner (2007) of the Guemple Award, pictured here receiving her award from Dean Brian Timney.
Awarded to an outstanding student entering fourth year in an Honours Bachelor Degree in either an Honours Specialization or Honours Major in Anthropology. Selection is based on academic achievement including grades, contributions to The Department of Anthropology and other recognized measures of excellence. The current value of the award is $500.00.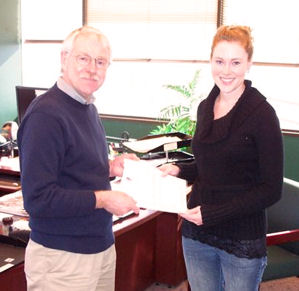 Recent Winners
2006  ◊ Philip Shadd ◊ Honours Anthropology and Philosophy
2005  ◊ Marc Blainey ◊ Honours Anthropology
Dr. Lee Guemple, Professor and Friend of the Department of Anthropology at the University Western Ontario
The award is named for Professsor Lee Guemple. Internationally known for his research among the Canadian Inuit, Dr. Guemple came to the University of Western Ontario in 1970 as Director of the Anthropology Program in the Department of Geography. The new program was so popular and successful he was able to establish it as a separate Department in 1972, a year earlier than planned. He served as the first chair through 1977. Dr. Guemple also served as the primary architect and Graduate Chair of the Department's MA Program in Symbolic Anthropology which began in 1980. He has not only been a major contributor to Anthropology at Western but also in Canada. He was one of the three founders of the Canadian Anthropology Association [CASCA] which is today the major professional organization for Sociocultural anthropologists in Canada. Dr. Guemple retired from the Department of Anthropology in 1996.