Andrea Allen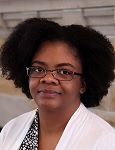 Assistant Professor - Sociocultural Anthropology/Faculty of Education/GSWS

Office: HUC A319c
Tel: 519 438-7724 x198
E-mail: aallen65@uwo.ca
My research examines how marginalized peoples negotiate ideological forces and lived realities that often minimize their ability to act in the world.  Through a focus on Afro-Brazilians, LGBTQ Brazilians, and Brazilian immigrants, my work contributes to Black studies, Black queer studies, Black feminist studies, queer anthropology, and the anthropologies of religion, race, gender, and sexuality in exploring marginalization from an embodied perspective.  As a Black feminist and queer scholar, I interrogate the everyday, approaching my anthropological work from an unbounded and undisciplined perspective that contributes to the long history of Black anthropologists' engagement with decolonizing the discipline.   
Reflecting these research interests, my first book, Violence and Desire in Brazilian Lesbian Relationships (2015), explored the experiences of Afro-Brazilian lesbian women in Salvador, Brazil.  This research was supported by funding from the Fulbright-Hays Program, The Reed Foundation, and the David Rockefeller Center of Latin American Studies and the Harvard Gay and Lesbian Caucus at Harvard University. In this ethnography, I argued that lesbian women are not merely passive victims of unequal power relations and stigmatizing discourses.  Rather, they and other marginalized populations protest against and resist the inequities that limit their social choices while they also play an active role in the replication of the very cultural models that stigmatize them. 
Influenced by this examination of the interstitiality of Black queer life in Brazil, my second book project, entitled Other Sheep That Are Not of This Fold: LGBT Evangelicals and the Brazilian Body Politic, investigates the experiences of LGBTQ evangelicals in Brazil and in Brazilian diasporic communities.  Supported by The Reed Foundation and the Connaught New Researcher Award and the Queer and Trans Research Lab at the University of Toronto, I examine how LGBTQ evangelicals exist betwixt and between these contrasting movements in Brazil, inhabiting a unique social location that intersects the interests of two ostensibly opposed groups. To examine the phenomenon of Brazilian inclusive churches and LGBTQ evangelicals and Pentecostals in a fulsome manner, I have conducted ethnographic fieldwork at inclusive evangelical churches in São Paulo and Lisbon. 
"Ishmael at the Table of Abraham: Black Queer Religious Hermeneutics and Afro-Brazilian LGBTQ Evangelicals." Accepted pending minor revisions. Religion and Society. 
"Neither Black nor Queer: Evangelicalism and Groundless Theology in Brazil." Accepted pending minor revisions. Gender, Place & Culture. 
"Black Agenda Report Book Forum: Andrea S. Allen's Violence and Desire in Brazilian Lesbian Relationships" (2021). Interview with Roberto Sirvento. Black Agenda Report.  January 27, 2021. 
Violence and Desire in Brazilian Lesbian Relationships. New York: Palgrave MacMillan, 2015.
Reviewed by Richard Parker in Journal of Latin American and Caribbean Anthropology 22.3 (2017): 598-600. 
 "'Brides' without Husbands: Lesbians in the Afro-Brazilian Religion Candomblé," in Transforming Anthropology 20.1 (2012): 17-31.  Reprinted in Religion, Sexuality and Spirituality, edited by Carole Cusack and Jason Prior. New York: Routledge, 2015. 
Public Anthropology
Allen, Andrea S., and Lemos, T. M. 2023. "On Donors and Daughters: The Language of Queer Kinship," American Ethnologist website. 28 March 2023. 
AfroPop Worldwide podcast: "Closeup: Drumming as A Resistance Movement." Public Radio Exchange, July 7, 2020.