Dan Jorgensen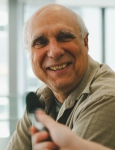 Adjunct Research Professor -Sociocultural Anthropology
PhD 1981 (University of British Columbia)
Office: Social Science Centre 3314
Tel: 519 661-2111  ext. 84702
E-mail: dwj@uwo.ca
My research is among the Telefolmin people and their neighbours in Papua New Guinea, and my theoretical interests have varied over four decades as my ethnographic concerns shifted. My early fieldwork focused on traditional religion centred on male initiations and an elaborate mythology associated with them. Given the obvious gender dimension of the men's cult, I also devoted some attention to the relation between men and women in Telefol life. In the late '70s a charismatic revival movement led by female spirit mediums redefined Telefol identity in Christian terms, sweeping away most of the traditional religion. At the same time plans for large-scale mining became looming presences on local horizons. These events and their consequences prompted several field trips over the next three decades. One focus was an analysis of the triangular relation between local people, mining companies and the state – especially over the definition and politics of landownership. This work also led to a more general interest in the ways that the projects of local people and outsiders come together (and occasionally clash) in contexts such as resource development or transnational evangelism.
Telefol life has undergone many changes over the last several decades, and one consistent theme has been what Tsing has called 'scale-making', evident in a shifting sense of the Telefol place in an expanded world. Despite their home valleys' geographical isolation, many Telefolmin now live in urban centres outside the area, with migration opening many opportunities while complicating relations between townspeople and villagers. This mobility raises issues of connection and connectivity that set the stage for my most recent work, which focuses on the impact of mobile phones and the internet on contemporary Telefol life.
You can follow my work here: 
2021 Exiles and empty houses: contingent events and their aftermath in the Ok Tedi hinterland. In: Unequal Lives: Gender, Race, and Class in the Western Pacific, N. Bainton, et al, eds., pp. 267-304. Canberra: ANU Press.  http://press-files.anu.edu.au/downloads/press/n7584/pdf/ch10.pdf

2020 Kenelm O.L. Burridge (1922-2019). American Anthropologist 122(4):984-987.  https://anthrosource.onlinelibrary.wiley.com/doi/10.1111/aman.13493 

2019 Afterword: Dark Anthropology in Papua New Guinea? In: Good Life in Dark Times?: Melanesian Interventions in Dark Anthropology / Anthropology of the Good, B. Knauft, ed. The Australian Journal of Anthropology 30(1):104-116.  https://doi:10.1111/taja.12306
2018 Toby and the "Mobile System": apocalypse and salvation in Papua New Guinea's wireless network. In: The Moral Economy of Mobile Phones: Pacific Island Perspectives, Robert Foster and Heather Horst, eds., pp. 53-72 Canberra: ANU Press. http://press-files.anu.edu.au/downloads/press/n4253/pdf/ch03.pdf 
2016 The garden and beyond: the dry season, the Ok Tedi shutdown, and the footprint of the 2015 El Nino drought. Oceania 86(1):25-39. https://doi.org/10.1002/ocea.5121 
2014 Mining narratives and multiple geographies in Papua New Guinea: Ok Tedi, the emerald cave, and Lost Tribes. Journal de la Société des Océanistes 138/139:23-36. https://doi.org/10.4000/jso.7117     
2014 Preying on those close to home: witchcraft violence in a Papua New Guinea village. The Australian Journal of Anthropology 25(3):267-286. https://doi.org/10.1111/taja.12105  
 2007 Clan-finding, clan-making and the politics of identity in a Papua New Guinea mining project. In: Customary Land Tenure and Registration in Indigenous Australia and Papua New Guinea, James Weiner and Katie Glaskin, eds., pp. 57-72. Canberra: ANU Press. http://press-files.anu.edu.au/downloads/press/p99961/pdf/ch0418.pdf
2007 Changing minds: hysteria and the history of spirit mediumship in Telefolmin. In: The Anthropology of Morality in Melanesia and Beyond, J. Barker, ed., pp. 113-130. Aldershot: Ashgate Publishing.
2006 Hinterland history: the Ok Tedi mine and its cultural consequences in Telefolmin. The Contemporary Pacific 18(2):233-263. https://muse.jhu.edu/article/201172
2005 Third Wave evangelism and the politics of the global in Papua New Guinea: spiritual warfare and the recreation of place in Telefolmin. Oceania 75(4):444-461. https://doi.org/10.1002/j.1834-4461.2005.tb02902.x
2002 The Invention of Culture, Magalim, and the Holy Spirit. Social Analysis 46(1):69-79. https://doi.org/10.3167/sa.2002.460109  
2001 History and the genealogy of myth. Paideuma: Mitteilungen zur Kulturkunde 47:103-128. https://www.jstor.org/stable/40341810    
1998 Whose nature? Invading bush spirits, travelling ancestors and mining in Telefolmin. Social Analysis 42(3):100-16. https://www.jstor.org/stable/23166582
1997 Who and what is a landowner?  Mythology and marking the ground in a PNG mining project. Anthropological Forum 7(4):599-628. https://doi.org/10.1080/00664677.1997.9967476 
1996 Regional history and ethnic identity in the hub of New Guinea: the emergence of the Min.  Oceania 66(3):189-210. https://doi.org/10.1002/j.1834-4461.1996.tb02551.x
1994 Locating the divine in Melanesia:  an appreciation of the work of Kenelm Burridge.  Anthropology and Humanism 19(2):130-7. https://doi.org/10.1525/ahu.1994.19.2.130  
1993 Money and marriage in Telefolmin.  In:  The Business of Marriage, R. Marksbury, ed., pp. 57-82.  Pittsburgh: University of Pittsburgh Press. 
1991 Big men, great men, and women:  alternate logics of gender difference.  In: Big Men and Great Men: Personifications of Power in Melanesia, M. Godelier and M. Strathern, eds, pp. 256-271.  Cambridge: Cambridge University Press.
1990 Secrecy's turns.  Canberra Anthropology 13:40-47. https://doi.org/10.1080/03149099009508488
1990 Placing the past and moving the present: myth and contemporary history in Telefolmin.  Culture 10(2):47-56.
1990 The Telefolip and the architecture of ethnic identity in the Sepik headwaters. In: The Children of Afek, B. Craig and D. Hyndman, eds., pp. 151-160.  Sydney: Oceania Monographs.
1985 Femsep's last garden: a Telefol response to mortality. In: Aging and Its Transformations: Moving Toward Death in Pacific Societies, D.E.A. Counts and D. Counts, eds., pp. 207-226.  New York: University Press of America.
1983 The clear and the hidden: person, self, and suicide among the Telefolmin of Papua New Guinea.  Omega: The Journal of Death and Dying 14(2):113-26. https://doi.org/10.2190/QE5A-6MDY-UBE2-HYKY
1983 The facts of life, Papua New Guinea style. Mankind 14:1-12. https://doi.org/10.1111/j.1835-9310.1983.tb01246.x
1983 Mirroring nature? Men's and women's models of conception in Telefolmin.  Mankind 14:57-65. https://doi.org/10.1111/j.1835-9310.1983.tb01251.x
1981 Life on the fringe: history and society in Telefolmin.  In: The Plight of Peripheral People in Papua New Guinea, R. Gordon, ed., pp. 59-79. Cultural Survival Occasional Papers No. 7.  Cambridge (Mass.): Cultural Survival. 
1980 What's in a name: the meaning of meaninglessness in Telefolmin.  Ethos 8:349-66. https://doi.org/10.1525/eth.1980.8.4.02a00060   
Completed Graduate Supervisions

Md. Rashedul Alam – PhD (2021) "From Stateless People to Citizens: The Reformulation of Space and Identity in India-Bangladesh Border Enclaves"
Brianne Vescio – MA (2019) "From Economic Dreams to Environmental Nightmares: Examining the Dramatic Spectacle Surrounding Northern Ontario's Ring of Fire"
Rachael Simser – MA (2018) "Mothers Who Blog: An Exploration of Advice, Personal Stories and Motherhood Online" 
Md. Rashedul Alam – MA (2015) "Mining, Resistance and Livelihood in Rural Bangladesh" 
Dina Najjar – PhD (2013) "The Money of Qaroon and the Patience of Ayoub: Women and Land in Egypt's Mubarak Resettlement Scheme" (Co-Supervised with Rachel Bezner Kerr) 
Caleigh Farrell – MA (2013) "Investigating the Role of Zoos in Primate Conservation: An Analysis of Visitor Behaviour at the Toronto Zoo" (Co-Supervised with Ian Colquhoun) 
Angela MacMillan – MA (2012) "Women's Engagements with Christianity in Oksapmin, Papua New Guinea" 
Bryan Wilson – MA (2012) "Communication, Commodified Nature, and Boundaries: Ecotourism and Conservation in Northwest Madagascar" (Co-Supervised with Ian Colquhoun) 
Anna Victoria Tiongson Urbi – MA (2010) "Caring for Others: Filipino Live-In Caregivers and their Left-Behind Families" 
Plus 12 additional MAs completed prior to 2010
Undergraduate courses taught
Introductory Anthropology
Symbolic Anthropology
Pacific Ethnography/Melanesian Ethnography
Foundations of Anthropology
Concepts of Culture and Society
Women and Men in Cross-Cultural Perspective
Medical Anthropology
The Human Settlement of the Pacific – Module in Interdisciplinary Studies course "The Sea"
Indigenous Peoples, Globalization and the Environment
Mobile Phones and the Internet in the Global South
Anthropological Thought/Anthropological Theory 
Senior Research Seminar
Graduate Courses Taught

Graduate Theory Seminar
Graduate Methods Seminar
Graduate Ethnography Seminar: The Anthropology of Resource Frontiers