Lindsay Bell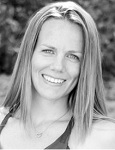 Assistant Professor -Sociocultural Anthropology
PhD 2013 (University of Toronto)
Office: Social Science Centre 3312
Tel: 519 661-2111  ext. 82541
E-mail: lindsay.bell@uwo.ca   Twitter:@drlibertybell
My body of scholarship explores intersections between language, political economy, aspiration, and embodied social inequality. I have a sustained interest in the following questions: how and why do individuals and institutions aspire to change themselves and/or each other? How are these aspirations culturally shaped? How do transnational processes configure ordinary people's desires for "the good life"? I explore these questions in three different global contexts (1) Large scale resource extraction in the arctic (Canada, Alaska, Finland), (2) The transnational governance of extractive industries, and (3) Contemporary wellness cultures in North America. My engagement with these themes began as I critically analyzed the changing place of Indigenous life and arctic extractive environments in (inter)national public culture. This work is culminating in my forthcoming book and through an ongoing arts-based project. I am currently studying the transnational configuration of "transparency" across the gemstone supply chain. Finally, drawing on concerns with the link between healing, language, and culture, I am conducting research on talk-based therapies (mindfulness) that are increasingly integrated in non-therapeutic spaces (e.g. college campuses, fitness studios).
Forthcoming June 2021. (with Filipe Calvão) From Ashes to Diamonds: Making lab-grown afterlife.  TSANTSA: Journal of the Swiss Anthropological Association. Issue 26.
2019      Instructing / Improvising Health: Neoliberalism and Pre-diabetes Prevention on a US College Campus. Culture, Theory and Critique. 60:0, 33-49, DOI: 10.1080/14735784.2018.1543606
2017    "Soft skills, hard rocks: Making Diamonds Ethical in Canada's Northwest Territories" FOCAAL: Journal of Global and Historical Anthropology. Pp.74-88 
2016    "Searching for Evidence Based-Traditions: Addiction treatment in Canada's Northwest Territories". Medicine Anthropology, Theory. 3(1). 
2016    Sustaining the Nation: Natural Resources and the Making of a National Linguistic Minority. Oxford UP. With Monica Heller, Michelle Daveluy, Hubert Noel and Mireille McLaughlin. 
2012    "In Search of Hope: Mobility on the Canadian Frontier" In Lem, W and P Gardiner-Barber (eds.) 21st Century Migration: Eth­nography and Political Economy. Routledge: London, 207-246. 
2011    Heller, Monica & Lindsay Bell "Frontiers and Frenchness: pride and profit in the production of Canada". In Alexandre Duchêne et Heller, Monica (éd.), Language in Late Capitalism: Pride and Profit. London: Routledge, 254-285. 
2010    "Economic Insecurity as Opportunity: Job Training and the Canadian Diamond Industry" in Daveluy, M, F Lévesque, and J Ferguson (eds.) Humanizing Security in the Arctic. Canadian Circumpolar Institute Press: Edmonton, 293-304. 
I have written several essays for the blog (formerly known as) Savage Minds. Topics include: empathy, visual methods, writing practice, and death in the age of social media. You can read them here. 
I am a member of the Centre for Imaginative Ethnography. On their website, I have posted experiments in ethnographic nonfiction. 
With Sara Komarnisky, I edited a special issue of Northern Public Affairs, a public policy magazine available in every northern public library in Canada. Our issue, Northern Interruptions, featured up-and -coming scholars whose work interrupts the status quo of Arctic social science. My photo essay contribution can be seen here.
2017- 2020      Granting agency: Swiss National Science Foundation.
Project Title: Transparency: Qualities and Technologies of Global Gemstone Trading
Role: Co-Investigator
Principal Investigator (PI): Filipe Calvão Graduate Institute of International and Development Studies, Geneva. $550,000 CHF. 
2017-2019       Granting agency: Wenner Gren Foundation for Anthropology.
Project Title: Tracing Transparency: Qualities and Technologies of Global Diamond Trading
Role: Principal Investigator, $17,000 
2014-2016       Granting  agency: Social Sciences and Humanities Research Council of Canada.
Project title: Visualizing Canada's Urban North.
Role: Principal Investigator, Insight Development Grant, $75,000
My current course repertoire is broad and includes introduction to cultural anthropology, language and culture, anthropological theory, sex and gender, visual anthropology, medical anthropology as well as area courses covering the anthropology of the United States, Indigenous North America and the Circumpolar World. 
I am a regular contributor to the University of Press' blog Teaching Culture where I write about teaching ethnographic sensibility and methods to undergraduates through hands-on approaches. 
I welcome inquiries from graduate students interested in the following research areas: 
The Global Arctic
Extractive Industries
Literary and Visual Ethnography
Medical Anthropology, Disability Studies, Public Health
Canada and the United States
Education, Informal Learning