Pamela Block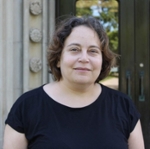 Professor - Sociocultural Anthropology
PhD 1997 (Duke University)
Office: Social Science Centre 3425
Tel: 519 661-2111  ext. 85077
E-mail: pblock@uwo.ca  
Video Bio
My Current Research Projects
Disability Portraits from Brazil
CV
https://shakeitup.uwo.ca
My research interests include disability culture, cultural perceptions of disability, and the intersections of disability, sexuality, gender, race, ethnicity, and social status.  I study disability experience on individual, organizational and community levels, with past funded research involving socio-environmental barriers, empowerment/capacity-building, and health promotion. My qualitative research methodologies combine historical and discourse analyses with community-based ethnographic, autoethnographic, and participatory approaches. I am particularly interested in movements for disability liberation (justice and rights) and disability oppression (eugenics, sterilization, mass-incarceration and killing) in Brazil, the United States and Canada.
Books
Carey, A., Block, P., and Scotch R. (2020). Allies and Obstacles: Parents of Children with Disabilities and Disability Rights. Philadelphia, PA: Temple University Press. (Book Talk and Panel Discussion here)
Block, P., Kasnitz, D., Nishida, A., and Pollard N., eds. (2016). Occupying Disability: Critical Approaches to Community, Justice and Decolonizing Disability. New York: Springer, Ltd.
Journals
Lorandi, J. M. and Block, P. (2023) Social and health experiences of disabled people with complex medical conditions during the COVID-19 pandemic. Research in Social Science and Disability.
Alumukhtara, A., Johnstone, L. DePasquale, R., Warren, N., and Block, P. (2022) Aging with (and into) Assistive Technology: An exploration of the narratives of amputees and polio survivors. Disability and Rehabilitation: Assistive Technology, DOI: 10.1080/17483107.2022.2131916
Karp, P. and Block, P.(2022). Float to Grow: Nurturing the Roots of Socially Inclusive and Just Practice in Occupational Therapy Students. Brazilian Journal of Occupational Therapy.
Gesser, M., Block P., and Mello A.G. (2022) Estudios sobre discapacidad: interseccionalidad, anticapacitismo y emancipación social. Andamios 19(49).
Block, P. with Diallo, S. (2020). Activism, anthropology and disability studies in times of austerity. Wenner Gren Symposium Proceedings. Current Anthropology.61(21): S68-S75
Book Chapters
Ramawati, D., Block, P. (2021). Sexuality and Sexual Rights of Young Adults with Intellectual Disability in Central Java, Indonesia. Routledge Handbook of Disability and Sexuality. New York: Routledge

Gesser, M., Block P. Mello A. (2021). Estudos da deficiência: interseccionalidade, anticapacitismo e emancipação social. In (Eds. Gesser, M; Böck, G & Lopes, P. H.) Estudos da Deficiência: anticapacitismo e emancipação social [Disability Studies: Anti-ableism and social emancipation]. Florianópolis: CVC. https://www.passeidireto.com/arquivo/86543773/livro-estudos-da-deficiencia-anticapacitismo-e-emancipacao-social/3

Block, P. 2020 Esterilizacao e Controle Sexual. In (Eds. D. Allebrandt, N. E. Meinerz, P.G. Nascimento) Desigualidades e Politicas da Ciencia. Forianopolis: Casa Verde. https://casaverdeassessoria.com/livro-desigualdades-e-politicas-da-ciencia/ 

Evans, C., Milazzo, M. and Block, P. (2020) "Re-Thinking Disability Community:  Chosen and Ascribed Communities or Intersecting Communities and Communities in Conflict." In (Ed. Bettina Jansen) Rethinking Community Towards Transdisciplinary Community Research. New York: Palgrave.
Courses I have taught:

2278 - Anthropology of Race, Ethnicity and Identity
Course Outline
2290 - Cultures of Health, Illness, Disability and Healing
Course Outline
3354/9230 - Disability and Health in Local and Global Worlds
Course Outline
3356F/9217 - Anthropology and Embodiment
Course Outline
3378 - Bio-Cultural Debates in Race and Ethnicity
Course Outline
3382 - Intersectional Identities in Brazil
Course Outline
3393/9225 - Deviance, Difference, and Resistance
Course Outline
Recent PhD graduates include:
Dian Ramawati, Defended August 2022 HRS/DS, SBU "Sexuality, Sexual Education, and Sexual Rights of Young Adults with Intellectual Disabilities in Indonesia"
Alexandra Wagner, Defended June 2020 HRS/DS, SBU. "Understanding the Experiences of Older Adults with Age Related Cognitive Changes Who are Aging in Place"
Maria Milazzo,  Defended August 2019, HRS/DS, SBU. "Lessons about Living Well at the Intersection of Adolescence and Multiple Sclerosis"
Sylette Henry-Buckmire, Defended August 2018 HRS/DS, SBU. "Mobility-as-Occupation: Justice Manoeuvres and Negotiations in T&T"
Cassandra Evans, Defended December 2017 HRS/DS, SBU. "Asylum to Community and In Between: Examining the post-Deinstitutionalization Transitional Experiences of Mentally Disabled Individuals in Suffolk County, Long Island"