Trish Markert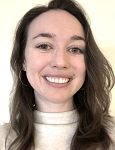 Assistant Professor -Archaeology
PhD 2022 (Binghampton University)
Office: Social Science Centre 3433
Tel: 519 661-2111  ext. 85100
E-mail: pmarkert@uwo.ca
I am an historical archaeologist interested in place, migration, and community-based archaeology. My research focuses on placemaking in contexts of historic migration, particularly those related to ongoing settler colonialism in North America. How do negotiations of migrant identity become expressed through built landscapes, oral histories, and heritage practices? How are migrant pasts remembered and mythologized through materials and words, and how do these inform conceptions of migration in the present? As an archaeologist working with communities on sites of the recent past, I incorporate methods such as ethnography, oral history, linguistic and narrative analysis, architectural analysis, 3D photogrammetry, and participatory mapping to collaboratively approach questions of place, identity, and heritage. 

I direct a community archaeology project in south Texas focused on several towns that originated from a wave of Alsatian and German migration in the 19th century. The towns continued to exist at the intersection of multiple migrations in the century that followed. My current book project follows the construction and eventual ruination of five rock houses from the town of D'Hanis, TX to examine how migrants (from Alsace, Germany, and Mexico) and their descendants made place, negotiated identities, and imagined pasts and futures across several generations.
In addition to my research on place and migration, I am invested in questions of archaeological ethics, equity, and accessibility. I am a member of the Canadian Archaeological Association's Working Group on Equity and Diversity in Canadian Archaeology, chaired by my colleague Dr. Lisa Hodgetts.