3307A-Field Methods in Archaeology
3307A-Field Methods in Archaeology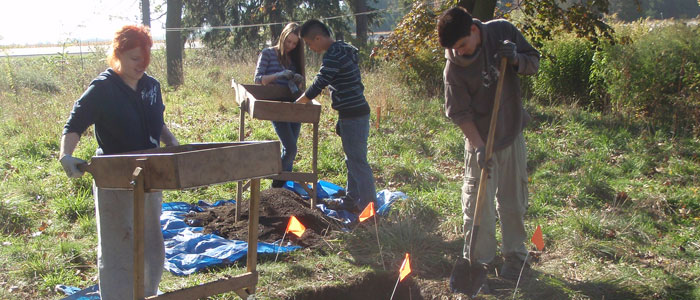 *Students at work in the field at a local archaeological site.
This is a hands-on course that provides students with a grounding in basic field techniques (both survey and excavation) commonly used in cultural resource management and archaeological research contexts. It also includes a lecture component on the archaeological assessment process in Ontario and an introduction to archaeological lab procedures with a focus on artifact processing.
The course is held in the Fall term at the Museum of Ontario Archaeology at 1600 Attwandaron Rd. The first 6-7 weeks are spent working in the field at a local archaeological site, and the final weeks divided between lectures and artifact processing.
Prerequisites: Anth 2229F/G, registration in Year 3 or 4 in an Anthropology module.
2021-2022: Thursdays, 9:30am - 3:30 pm. 
There is no application for this course, although you will see in some places on Western sites that there is. Unfortunately, this information is unable to be updated. We are hopeful that students who have the course prerequisite Anth 2229F/G and who are in third or fourth year will be able to register for 3307A effortlessly. If you encounter issues registering for this course, please email the Undergraduate Program Advisor, Laura Cousins lcousin3@uwo.ca for assistance.