Field Methods Courses in London, Ontario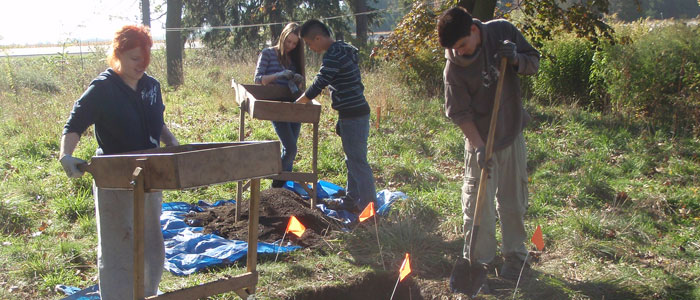 TheDepartment of Anthropology at Western offers two courses at the Museum of Ontario Archaeology that train students in different areas of archaeological practice. Anthropology 3307A and Anthropology 3324A/B complement, rather than duplicate, the focus, training and skills offered in the other course. Anthropology 3307A is offered in the Fall this 2018-19 year. Anthropology 3324A/B was offered in the Summer of 2017.
Anthropology 3307A – Field Methods in Archaeology
This is a hands-on course that provides students with a grounding in basic field techniques (both survey and excavation) commonly used in cultural resource management and archaeological research contexts. It also includes a lecture component and an introduction to archaeological lab procedures with a focus on artifact processing. Lectures focus on the archaeological assessment process in Ontario.  The course is held on Fridays in the Fall term 8:30 am - 2:30 pm, with the first 6-7 weeks spent in the field at a local site, and the final weeks divided between lectures and artifact processing.
Prerequisites: Anth 2229F/G, registration in Year 3 or 4 in an Anthropology module, and permission from the instructor via application.
2018/19 application for fall 2018 now closed.
Anthropology 3324A/B – Archaeological Field School – Site Management and Service
This field school, held at the ca. 1500 AD Lawson Village site on the grounds of the Museum of Ontario Archaeology in London, is a field-intensive program teaching students how to preserve and care for a significant archaeological site through non-invasive and minimally-intrusive field methodologies. The focus is on methods and management strategies that serve to care for the heritage value of this Indigenous archaeological heritage. Students are also introduced to the concept of fieldwork as service, working with First Nation community members, the public and museum staff, and will learn how to effectively communicate archaeological practice and heritage to people beyond archaeology. This course is an intensive three-week format.
Prerequisites: Registration in third or fourth year in any program.