Current Graduate Students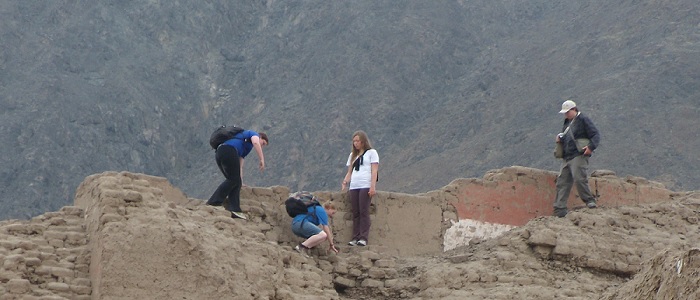 The MA program was founded in 1979, with the first thesis completion in 1981. Since 2003, the department has offered a PhD in Sociocultural anthropology and in archaeological sciences. As you will see in the sub-sections, graduate students in our program are conducting primary research in all areas of anthropology.
We are pleased to be welcoming 14 new graduate students to our program in 2018-19!
Graduate Students 2018-19
MASTERS
| Name | Topic | Supervisor |
| --- | --- | --- |
| Kalley Armstrong [Harvard] | Growing up on the Outside of Spanish Residential School | Gerald McKinley |
| Tamara Britton [Ryerson] | Ethnoprimatology, primate conservation, community perspectives, ecological knowledge | Ian Colquhoun |
| Marie-Pier Cantin [Western] | The ethics of Anthropology and the Anthropology of ethics | Andrew Walsh |
| Harry Dal Bello [Grant Macewan] | Language revitalization/linguistic anthropology, the intersection between anthropological work and bureaucracy | Tania Granadillo |
| Diana Gavric [Western] | Impact of changing US-Cuban relations on Cuban citizens' notions of national identity since 2014; Cuban state discourses on national identity in relation to the United States | Adriana Premat |
| Dallas Hauck [Alberta] | Power in Recreation: Hockey and the Enforcement of Canadian Identity | Kim Clark |
| Alana Kehoe [Grant Macewan] | Anthropology of disaster, human reaction to natural disasters, traditional knowledge, space-based knowledge, and cross-cultural reactions to natural disasters | Karen Pennesi |
| Kara Kelliher [Ottawa] | Gender, Representation and Identity in Maasai Owned and Operated Tourism Projects | Sherrie Larkin |
| Tyler MacIntosh [Western] | Madagascar's vanilla trade: An ethnobotanical study | Andrew Walsh |
| Alexandra Nelson [Western] | Coping and Survival Strategies Deployed by Homeless Single Mothers: Negotiating Homelessness, Motherhood and Identity in Victoria, BC, and London, Ontario | Bipasha Baruah |
| Everett Newland [Guelph] | Developing Transgender Ethnography: Against the Medicalization of Gender | Kim Clark |
| Wade Paul [Western] | Medical anthropology | Regna Darnell |
| Emily Pitts [Alberta] | How the use of Indigenous languages affects the process of identity construction in urban Indigenous populations | Tania Granadillo |
| Brianne Vescio [Western] | The 'economy of appearances' as it relates to the Northern Ontario Ring of Fire project | Dan Jorgensen |
| Jutta Zeller-Beier [Western] | Leadership and Integration of Newcomers in London, Ontario | Kim Clark |
PHDs
Name
Topic
Supervisor
Ricki-Lynn Achilles [British Columbia]
Language revitalization, emotions, reconcilliation, endangered languages, identity
Tania Granadillo
Danielle Alcock [Western]
Community Based Research on Traditional ecological knowledge and Elderly Care in First Nations Communities
Regna Darnell
Nathan Dawthorne
[Western]
Narratives of Male Sex Work in London Ontario
Regna Darnell
Patrick Galler [Western]
A Politics of the Production of Bodies in Distance Running
Kim Clark
Federica Guccini [Georg-August-Universitat, Germany]
Hakka language and identity in Mauritius
Karen Pennesi
Arwen Johns [Western]
Peru, food, gastronationalism, representations of indigenous heritage, national identities, tourism, memory and nostalgia
Jean-Francois Millaire & Adriana Premat
Beatriz Juarez Rodriguez [

Instituto Venezolano de Investigaciones Cientificas

]
State, memory and politicial identities among Afro-Venezuelan people
Kim Clark
Bruce Lawrence
[Korean National University]
Investigating English language in Korea
Karen Pennesi
Kelly Linton [Calgary]
Place-based knowledge and Sites of Exchange - Innovation and Adaptation in Southern Ontario Agriculture
Andrew Walsh
Elaine McIlwraith
[Western]
Al-Andalus of the Past in the Present: Contemporary historical narratives of Arab Spain within a shifting political environment
Randa Farah
Alexandra Nelson [Western]
Coping and Survival Strategies Deployed by Homeless Single Mothers: Negotiating Homelessness, Motherhood and Identity in Victoria, BC, and London, Ontario
Bipasha Baruah & Regna Darnell
Driton Nushaj [Western]
Indigenous ontologies
Regna Darnell
Bimadoshka Pucan [Western]
Aligning Anishinaabeg Health Practices and Western Methods
Regna Darnell
MD Rashedul Alam [Western]
Non-State Spaces in New Maps: The Partition of "British India" and Seventy Years of Statelessness Along the Bangladesh-India Border.
Dan Jorgensen
Jennifer Spinney
[Western]
Weather and Society: how people understand & experience severe weather in Canada; how people use these understandings to assess risk and decision-making; weather warning - effects & consequences of communication.
Karen Pennesi
Mingyuan Zhang
[Western]
Chinese influence in Madagascar
Andrew Walsh
MASTERS
| Name | Topic | Supervisor |
| --- | --- | --- |
| Andrew Arsenault [Concordia] | Archaeology (primarily Egyptian and Classical) , mummification, disease/ paleopathology, hominid evolution | Andrew Nelson |
| Carolina Delgado [Universidad de la Republica] | Settlement Pattern of the Chaupiyunga zone during the Colonial Period | Jean-Francois Millaire |
| Scott Eckford [University of Toronto] | Analyses of fluted point assemblages from Ontario & surrounding areas | Chris Ellis |
| Kayla Golay Lausanne [Western] | Peruvian archaeology, urban morphology, geophysical techniques, GIS | Jean-Francois Millaire |
| Felipe Gonzalez Macqueen [Ryerson] | Reconstructing the Architectural Landscape of Cerro Arena, Peru | Jean-Francois Millaire |
| Jillian Graves [Western] | Bioarchaeology, Disease, Ancient Populations, Mummy studies, Hominid Evolution, Human Osteoarchaeology, Growth and Development, Peru | Andrew Nelson |
| Jeffrey Grieve [Western] | Digital Mapping of Inuvialuit Archaeology & Heritage | Lisa Hodgetts |
| Hilary Hager [Toronto] | Primate social behaviour and ecology, community conservation initiatives, and the human impact on our primate relatives | Ian Colquhoun |
| Hillary Kiazyk [Western] | | Neal Ferris |
| Jessica Lacerte [Eastern Michigan] | Indicators of stress in the Precolumbian populations of the North Coast of Peru | Andrew Nelson |
| Katya Valladares [Universidad Nacional Mayor de San Marcos] | Social identities and death histories at Chan Chan archaeological site, Chimu society, Peru | Andrew Nelson |
PHDs
Name
Topic
Supervisor
Kirsten Bruce [Manitoba]
Investigations of cancer and disease in the Chachapoya population using CT & X-ray images
Andrew Nelson
Mary (Beth) Compton
[York]
Examining the user needs for digital representations of physical archaeological objects.
Neal Ferris & Lisa Hodgetts
Trevor Fowler [Dalhousie]
Neal Ferris & Jean-Francois Millaire
Lauren Gilhooly
[Oxford Brookes]
Impact of tourist presence on long-tailed macaque behaviour and the implications for malaria transmission
Ian Colquhoun
Rebecca Goodwin [Toronto]
The construction of gender identity (particularly women's identity) among Inuit and their ancestors in the Canadian Arctic
Lisa Hodgetts
Amanda James [Leiden, Netherlands]
The effect of diet on Fluorosis in late Roman populations of the Somma-Vesuvius region
Andrea Waters-Rist
Casey Kirkpatrick
[Swansea]
Comparing the Accuracy of Region-specific and Universal Dental Aging Standards in Egypt.
El Molto
Diana Moreiras Reynaga
[British Columbia]
Mexica (Aztec) diets at the Templo Mayor and Temlo "R" (Tlatelolco) in Tenochtitlan through stable isotope analysis.
Jean-Francois Millaire
/Fred Longstaffe
John Moody
[Western]
A Petrographic analysis of Thule Ceramics
Lisa Hodgetts/Linda Howie
David Norris
[Saskatchewan]
An Examination of the presence and activities of Paleo-Indians regarding the colonization of northern Ontario.
Chris Ellis
Amedeo Sghinolfi [Padua, Italy]
Archaeological Survey in the Viru Valley chaupiyunga, Peru to document settlement patterns & the nature of interaction between coastal & highland peoples through time
Jean-Francois Millaire
Taylor Smith [McMaster]
Stable isotope and trace element analyses in the study of breastfeeding and infant feeding practices
Andrea Waters-Rist & Fred Longstaffe
Amy St. John
[Memorial]
The Use of Micro Computed Tomography in Archaeological Ceramic Studies
Neal Ferris
Joanna Suckling [Texas State]
Non-destructive analysis of mummy bundles from the Central Coast of Peru
Andrew Nelson
Amanda Suko [Waterloo]
Conceptualizing material borderlands: An archaeological examination of community-building, identity formation, and syncretism of domestic practices in the Arkona cluster sites, Ontario, Canada
Neal Ferris
Candie Thomas
[McMaster]
Archaeological Ethnography of Traditional Ceramic Production, Use and Meaning Among the AmaZulu of the Mnweni Valley, South Africa.
Neal Ferris
Renee Willmon
[Toronto]
3D Paleopathology of Tuberculosis
Andrew Nelson
Jennifer Willoughby
[University College London]
Paleo-oncology: Identifying neoplastic disease in mummified remains
Andrew Nelson
MASTERS
Name
Topic
Supervisor
Corbin Albani [Toronto]
Subsoil Sampling on Southern Ontario Historic Sites
Peter Timmins
Corbin Berger [Toronto]
An Ethnographic Study on Field Technicians in Ontario's Cultural Resource Management
Neal Ferris
Sarah Bolstridge (Intensive) [Wilfrid Laurier]
Neal Ferris
Sarah Clarke (Intensive) [Wilfrid Laurier]
Archaeological management at the Mohawk Village
Peter Timmins
Peter Epler (Intensive) [Wilfrid Laurier]
The Present State of Urban Archaeology in Ontario
Peter Timmins
Jonathan Freeman
[Western]
Occupational history of the Middle Iroquoian Dorchester Village site.
Peter Timmins
Gabryell Kurtzrock-Belyea [Wilfrid Laurier]
Interaction during the Middle Ages in Southwestern Ontario studied through lithic analysis at South Bend and Ridge Pine sites.
Peter Timmins
Jason Lau [McMaster]
Multimedia, visual anthropology, media production, design, public archaeology, community engagement, cultural heritage, advertising
Lisa Hodgetts
Shane McCartney
[McMaster]
Investigation of Season of Occupation of Western Basin archaeological sites based on thin-sections of deer teeth.
Lisa Hodgetts